Against the backdrop of a global pandemic, high unemployment and high volatility in the financial markets, many of you are wondering what we should expect in terms of return on investment in the coming years. We have analyzed the situation both on the fixed income investment side and on the stock market side and we share our conclusions with you.
Fixed-income investments
Interest rates have come down from their all-time high in the early 1980s and are now at an all-time low...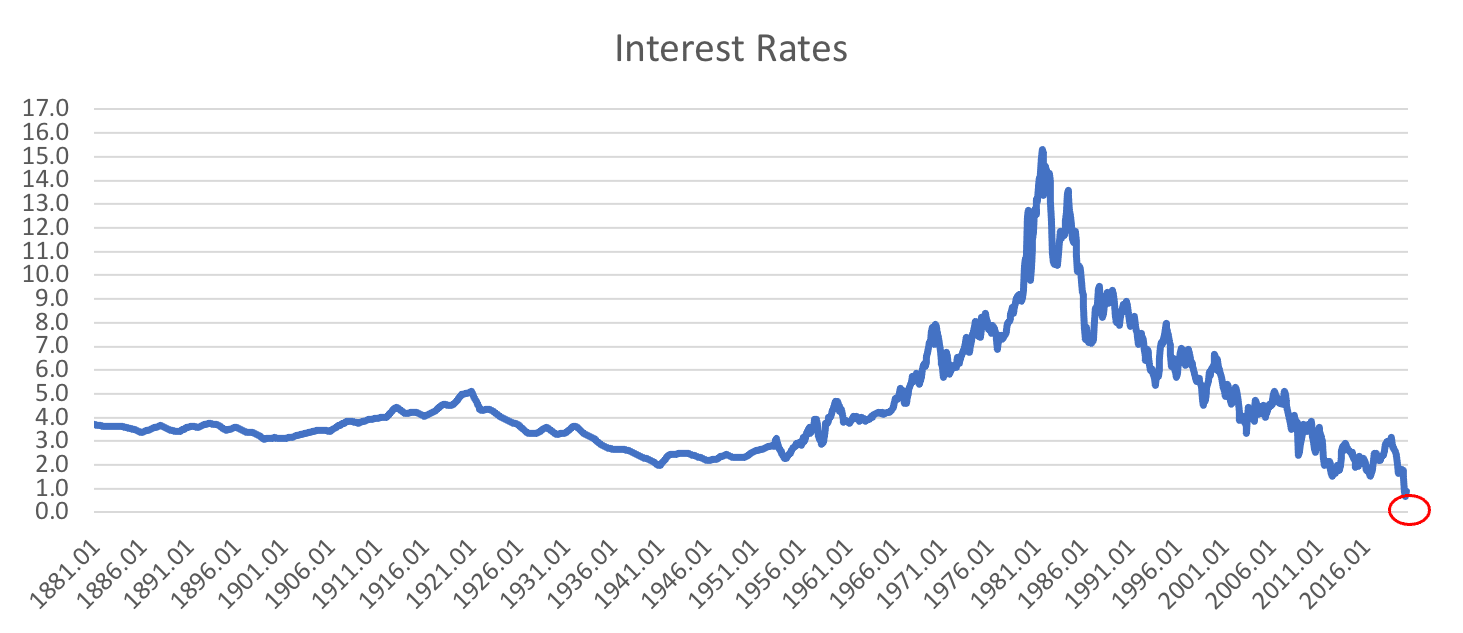 Provincial bond yields
1 year
0.27%
Alberta - September 1, 2021
2 years
0.40%
Alberta - September 1, 2022
3 years
0.76%
Ontario - September 8, 2023
4 years
0.94%
Newfoundland – April 17, 2024
5 years
1.05%
Saskatchewan – May 30, 2025
6 years
0.96%
Ontario - June 2, 2026
7 years
1.14%
Quebec – September 21, 2027
8 years
1.19%
Quebec – June 1,2028
9 years
1.29%
Quebec – June 1, 2029
10 years
1.54%
Manitoba - September 5, 2030
Average:
0.96%
Source : Factset as of August 4th, 2020
In order to be realistic, we should expect a return around 1% for the next few years from fixed-income securities...
---
Stock investments
The price paid for companies in the stock market, according to the Shiller ratio, is currently 30 dollars for each dollar that companies earn in profits. We are currently at the top 5% of the most expensive markets since 1881!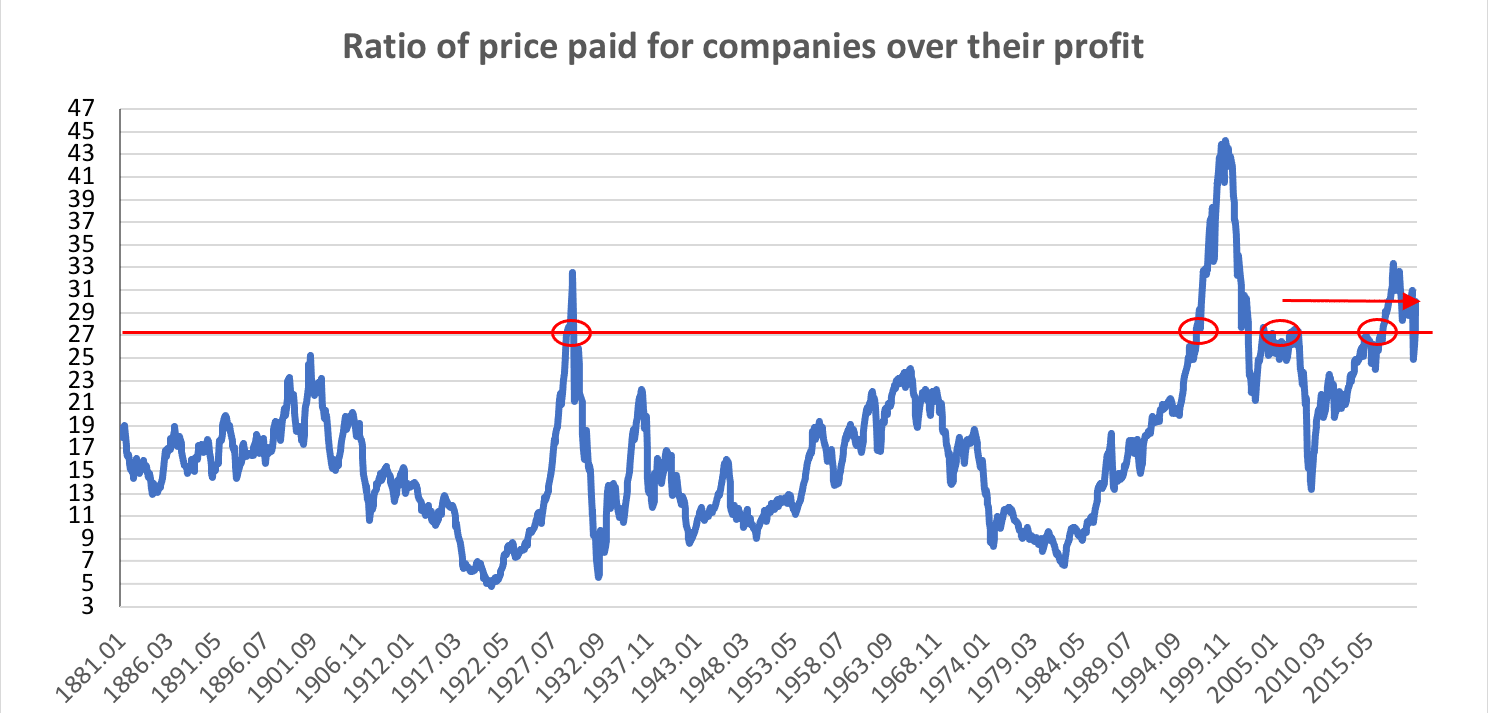 As you can see in the previous graph, the price paid for companies in the stock market per dollar of corporate profits has exceeded 27 times only 4 times since 1881. Each time, a similar story has been repeated...
Great Depression
Tech Bubble
Financial Crisis
Current Period
Date when ratio
exceeded 27 times the profits
January 1929
S&P : 24.9
November 1996
S&P : 735.7
April 2004
S&P : 1,132.5
December 2016
S&P : 2,246.6
Date when stocks
value reached the peak
September 1929
Index: 31.3
Increase: 26%
Duration: 8 months
August 2000
Index: 1,485.4
Increase: 102%
Duration: 3 years 8 months
July 2007
Index: 1,520.7
Increase: 34%
Duration: 3 years 3 months
January 2020 ?
Index: 3,278.2
Increase: 46%
Duration: 3 years 1 month
Subsequent fall in
stocks value
June 1932
Index: 5.6
Drop: -85%
Duration: 2 years 9 months
February 2003
Index: 837.0
Drop: -44%
Duration: 2 years 6 months
March 2009
Index: 757.1
Drop: -50%
Duration: 1 year 9 months
?
Annual stock return
over the next 15 years
0.6%
5.3%
7.9%
?
Source : Factset as of June 23rd, 2020
To sum it up, the stock market increased by 52% on average over a period of approximately 3 years after having reached a ratio of 27 times the profits. Then, the stock market began to decrease by 60% on average over a period of a little over 2 years. Finally, stock returns averaged 4.6% per year for the 15 years following the initial date.
Based on the average of the previous 3 periods, we are probably currently located near the end of the rise in stock values and the start of the fall period. The drop in economic activity caused by the pandemic could be the turning point.
In order to be realistic, we should expect an average annual return between 4% and 5% for the next few years from equities with a sharp drop in their value in the short or medium term ...
---
What strategy do we suggest in such a context?
Since we have no control over the rates of return on fixed income securities and on stocks, our first recommendation is to do a budget and financial planning, with realistic rates of return, to determine if you have liquidity needs for the next 15 years (period required to avoid equity losses given their current value).
To learn more about our recommendations, please use our website to easily contact us.
Disclaimer
Information in this article is from sources believed to be reliable; however, we cannot represent that it is accurate or complete. It is provided as a general source of information and should not be considered personal investment advice or solicitation to buy or sell securities. The views are those of the author, Marc-André Turcot, and not necessarily those of Raymond James Investment Counsel Ltd. Investors considering any investment strategy should consult with their investment advisor to ensure that it is suitable for the investor's circumstances and risk tolerance before making any investment decision.