Hello! Last month, we analyzed the return expectations for both fixed income and stocks. We have updated our research as of September 18 and are sharing with you our findings for this month.
Fixed-income investments
Once again, one can observe that interest rates have fallen from their all-time high of 15.32% in the early 1980s to now stand at an all-time low of 0.59%!
Interest rates – Long-term government bonds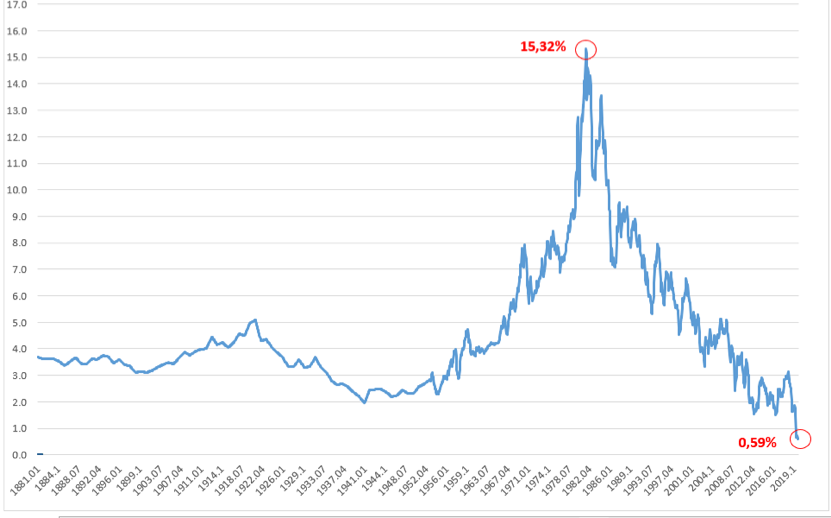 Source : http://www.econ.yale.edu/~shiller/data.htm on August 31st 2020
Provincial bonds yield-to-maturity
1 year
0.28%
Alberta - September 1, 2021
2 years
0.39%
Alberta - September 1, 2022
3 years
0.69%
Ontario - September 8, 2023
4 years
0.95%
Newfoundland – April 17, 2024
5 years
0.94%
Saskatchewan – May 30, 2025
6 years
0.88%
Ontario - June 2, 2026
7 years
1.04%
Quebec – September 21, 2027
8 years
1.12%
Quebec – June 1,2028
9 years
1.23%
Quebec – June 1, 2029
10 years
1.51%
Manitoba - September 5, 2030
Average:
0.90%
Source : Factset as of September 18th, 2020
Here are the returns for a 1-10 year laddered provincial bond portfolio. The yield edged down from last month, from 0.96% to 0.90%.
So, again, we should expect a return of just 1% for the next several years from secure fixed income ...
---
Stock market investments
The price paid for publicly traded companies, according to the Shiller ratio, is currently at 30.63 times their profits. There has been a slight increase since last month, when the ratio stood at 29.61. The market was only this expensive back in 1929 and 1999, two periods followed by a sharp correction.
Price paid per one dollar of profit (Shiller PE ratio)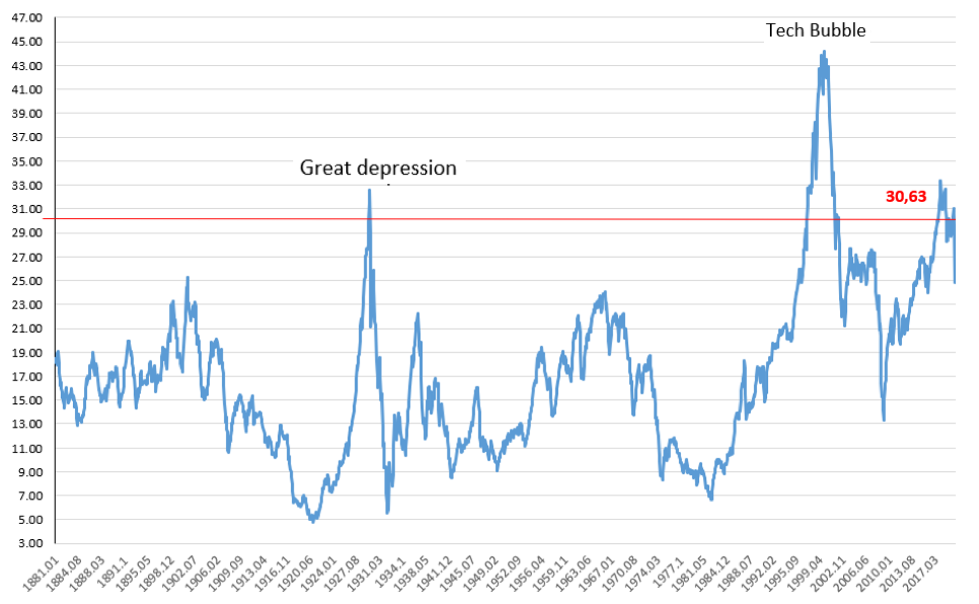 Source : http://www.econ.yale.edu/~shiller/data.htm as of August 31, 2020
We are therefore interested in knowing the return achieved by investors during the 15 years that followed such a high valuation of the stock market in the past.
Shiller PE ratio vs. Average annual return in the following 15 years
Source : Factset as of September 18th, 2020
On the horizontal axis, you can see different levels of Shiller's price-earnings ratio. It should be remembered that the higher this ratio, the more expensive the market is. The vertical axis represents the average annual return for the next 15 years. The blue dots represent all observed data and, finally, the black dotted line is the trendline of the graph. So, it is easy to see that the less expensive the market, the higher the returns for the next 15 years, and vice versa.
If we take Shiller's current ratio of around 31, we can see that the worst return for the next 15 years was negative and very close to zero, while the best was around 6%. Based on the trendline, at the current ratio, we can expect an average annual return of between 4-5% years over the next 15 years.
This concludes our analysis of this month's expected returns. Thank you for reading!
Disclaimer
Information in this article is from sources believed to be reliable; however, we cannot represent that it is accurate or complete. It is provided as a general source of information and should not be considered personal investment advice or solicitation to buy or sell securities. The views are those of the author, Marc-André Turcot, and not necessarily those of Raymond James Investment Counsel Ltd. Investors considering any investment strategy should consult with their investment advisor to ensure that it is suitable for the investor's circumstances and risk tolerance before making any investment decision.